"Game changer right here!"
"I absolutely love this product"
A GAME CHANGER
Packed with natural ingredients including powerful plant proteins and fiber. Enjoy a healthy plant-based diet without giving up on your favourite chicken recipes.
USE IN ANY CHICKEN RECIPE
Deliciou Plant-Based Chicken is a dry plant mix where you add water & oil to create a versatile mince which you shape into anything and use in your favourite chicken recipe.
THE BENEFIT OF PLANTS
Compared to real chicken, Deliciou Plant-Based Chicken has more protein, more fiber, no harmful cholesterol and no traces of antibiotics.
And no, we don't put ANY nasties in our products. We use natural GMO free ingredients, no preservatives and we haven't even added any salt.
POWERFUL PLANT PROTEIN
20g of Pea, Mung Bean and Wheat protein per serve. Your plant-based meals will be loaded with healthy amino acids to fuel your body.
THE WORLD'S HEALTHIEST PLANT MEAT?
We're setting a new standard for what healthy plant-based meat means.
Deliciou Plant-Based Chicken contains 20g protein per serve, lots of Iron & Vitamin B12, natural ingredients and is 100% plant-based.
There is no soy, no added sugar or salt, no preservatives and it's even GMO free.
NO PRESERVATIVES
Did you know that refrigerated plant meat is usually loaded with preservatives and salt to improve shelf life?

Deliciou Plant-Based Chicken comes dry, so we add zero preservatives or salt. We only use healthy ingredients you can feel good about.
HOW TO PREPARE
One box makes 400g clean & lean ground mince.
1. Combine the product with water & oil and mix through.
2. Shape into anything such as meatballs, burger patties or even nuggets.
3. Fry in the pan, bake in the oven or grill on the bbq.
FREE GLOBAL SHIPPING
Free shipping US & Canada wide on orders over $30. Shipping may incur a small charge for countries outside North America
Customer Reviews
Write a Review
Ask a Question
03/20/2020
Kim B.
United States
JK
03/13/2020
Jeremy K.
Australia
Great product, even for carnivores
I am maybe the opposite of a vegan, but have been seeking decent meat substitutes to little success. This is the best one I've had! It was terrific in soft tacos. In shelf-stable meat substitutes I haven't found anything better than this. About ten of us (mostly meat eaters) tried it at the same time and every single person loved it and was shocked at how good it tasted. Excellent product!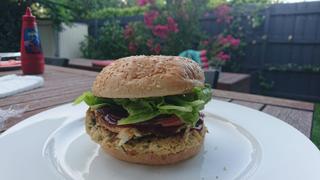 03/09/2020
Janet S.
United States
11/29/2020
Monisha D.
United States
Amazing!
This is one of the best plant-based products on the market. I love that you can shape the "chicken" and season it in various ways. The flavors are delicious and the texture is amazing! When I've cooked this for non-vegans, they did not know the difference between Deliciou and real chicken.
11/28/2020
Dianne I.
United States
Plant base Chicken
It was awesome!!